Hello, I bag developers to look at this problem!
Please play this misson on general, now in 2018. Its unplayble.
2014 video, difficulty general, its now in 2018 like conscript: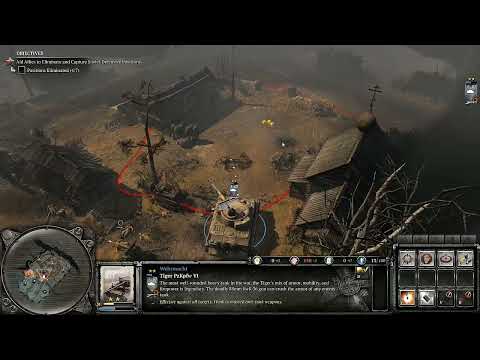 2013 video:
https://www.youtube.com/watch?time_continue=3416&v=lKWy-YJ1BHs
Tiger is also faster (wow, look at this agility) and do more damage (compare to 2017/2018).
KV-2s have hack, they still hunting Tiger, although they know nothing about position.
12/2017 video, same, but look at the game!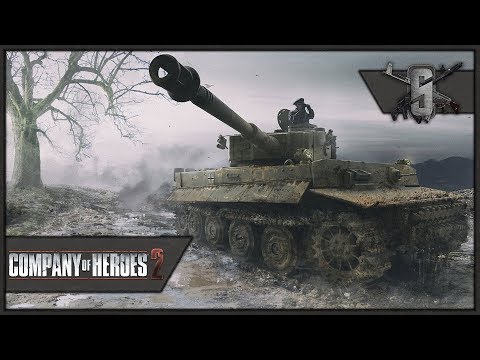 Final goal is defeat 3x KV-2, its similar, like you will play vs 3 Konig. Tiger. Its not KV-2 from skirmish.
KV-2 are little faster, turret is turring also faster.
Tiger damage is on 50-66% (all compare to 2014 video) or KV-2 HP is on 1,5x - 2x of normal.
KV-2 still have maphack.
Some testing by me:
KV-2 has about 2x more HP than Tiger, or Tiger does half of damage.
Damage output from Tiger to KV-2, penetrate from back, its about less than 1/10 of HP.
If KV-2 hits Tiger on frontal armor, its about 1/7 of Tigers HP.
Blietzkrieg tactis is also useless, you will be still hit with same penetrate % and damage, there is maybe zero bonus evasion, your Tiger has not some bonus damage in this tactic perk.
When u are really crazy COH expert, you will need maybe 10-15 penetrate hits on one KV-2 (there are 3).
If you want win this battle, u maybe have only BIG luck on reflection / bounce hits on your Tiger, nothing more, but still its insane difficulty. I think, someone did mistake at balance and vehicles stats, otherwise its not possible.
Players, who played this mission some yeas ago, have this more easier.
My company career is 911 hours played, 98% achievments, Im not best, but still no the worst.
Player Napoqe, from this forum:
"
In the Tiger Ace mission without buging, I think it's impossible to win on the General difficulty. Destroy 3 KV-2 enemies, with modified Tiger, no pioneers to consert for free.
"
Same or similar opinions:
https://community.companyofheroes.com/discussion/241258/theater-of-war-tiger-ace-general-difficulty
https://community.companyofheroes.com/discussion/243591/theater-of-war-tiger-ace-fix
https://community.companyofheroes.com/discussion/234499/tiger-vi-and-threat-of-war-case-blue-tiger-ace
WHAT CAN I DO TO FIX THIS?